Kawasaki Ninja Service Manual: Cable Removal
Remove: Air Cleaner Housing (see Air Cleaner Housing Removal in the Fuel System (DFI) chapter) Right Lower Fairing (see Lower Fairing Removal in the Frame chapter)
Loosen the nuts [A], and slide the lower end of the clutch cable to give the cable plenty of play.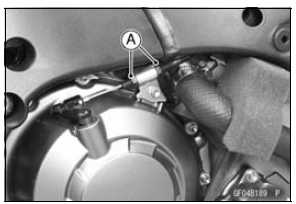 Screw in the adjuster [A].
Line up the slots [B] in the clutch lever and adjuster, and then free the cable from the lever.
Free the clutch inner cable tip from the clutch release lever.
Remove the clutch cable.