Kawasaki Ninja Service Manual: Exhaust Butterfly Valve Actuator Removal
NOTICE
Never drop the exhaust butterfly valve actuator especially on a hard surface. Such a shock to the actuator can damage it.
Remove: Front Seat (see Front Seat Removal in the Frame chapter) Clamp [A] Screws [B] and Washers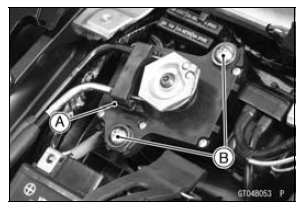 Slide the covers [A] and loosen the lock nuts [B] and adjusters [C].
Remove: Exhaust Butterfly Valve Open Cable [D] Exhaust Butterfly Valve Close Cable [E]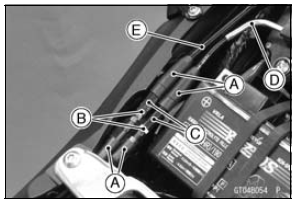 Remove: Connectors [A] Exhaust Butterfly Valve Actuator [B]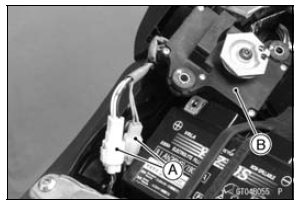 Remove the pulley bolt while holding the pulley [A] with a suitable tool [B].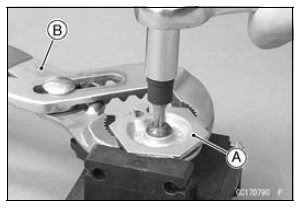 NOTICE
If the pulley bolt is removed without holding, the actuator damage will occur.
Remove the pulley from the actuator.