Kawasaki Ninja Owners Manual: Washing Your Motorcycle
Rinse your bike with cold water from a garden hose to remove any loose dirt.
Mix a mild neutral detergent (designed for motorcycles or automobiles) and water in a bucket. Use a soft cloth or sponge to wash your motorcycle. If needed, use a mild degreaser to remove any oil or grease which build up.
After washing, rinse your motorcycle thoroughly with clean water to remove any residue (residue from the detergent can damage parts of your motorcycle).
Use a soft cloth to dry your motorcycle.

As you dry, inspect your motorcycle for chips and scratches. Do not let the water air dry as this can damage the painted surfaces.

After cleaning your motorcycle, check the rubber boot covering the shift pedal ball joint for correct installation.

Be sure the sealing lip of the rubber boot fits into the groove of the ball joint.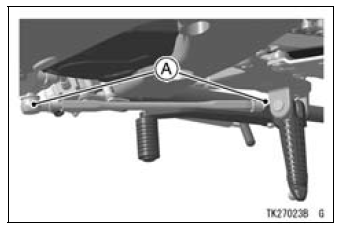 A. Boots
If the boot is damaged, replace it with a new one. If the boot is not positioned in the groove correctly, replace it in the correct position.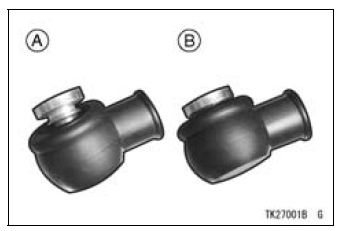 A. Wrongly set lip not in the correct position
B. Lip set correctly in the groove
Start the engine and let it idle for several minutes. The heat from the engine will help dry moist areas.
Carefully ride your motorcycle at a slow speed and apply the brakes several times. This helps the brakes dry and restores its normal operating performance
Lubricate the drive chain to prevent rusting.
NOTE
After riding in an area where the roads are salted or near the ocean, immediately wash your motorcycle with cold water. Do not use warm water as it accelerates the chemical reaction of the salt. After drying, apply a corrosion protection spray on all metal and chrome surfaces to prevent corrosion.
Condensationmay form on the inside of the headlight lens after riding in the rain, washing the motorcycle or humid weather. To remove the moisture, start the engine and turn on the headlight. Gradually the condensation on the inside of the lens will clear off.
Semi-gloss Finish
To clean the semi-gloss finish;
When washing the motorcycle, always use a mild neutral detergent and water.
The semi-gloss finish effect may be lost when the finish is excessively rubbed.
If any doubt, consult an authorized Kawasaki dealer.