Kawasaki Ninja Service Manual: Antenna Resistance Inspection
Turn the ignition switch to OFF.
Remove the air cleaner housing (see Air Cleaner Housing Removal in the Fuel System (DFI) chapter).
Disconnect the antenna lead connector [A].
Measure the antenna resistance.
Antenna Resistance Connections: BK lead ←→ BK/W lead Standard: About 3.0

4.6 Ω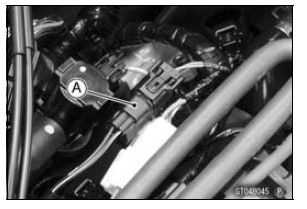 If the reading is out of the standard, replace the antenna (see Immobilizer System Parts Replacement in the Electrical System chapter).
If the reading is within the standard, check the wiring to the amplifier (see Immobilizer System Circuit).
If the wiring is good, check the input voltage of the amplifier (see Amplifier Input Voltage Inspection).