Kawasaki Ninja Service Manual: ECU Communication Error (Service Code 39)
ECU Communication Line Inspection
When the data is not sent from the ECU to the meter unit for more than about 10 seconds, the service code 39 is displayed.
The data is sent through the CAN communication line.
The service code 39 is detected with the meter unit.
When the user mode, this communication error blinks the following items besides the FI warning symbol [A].
Power Mode and S-KTRC Symbols [B] Yellow Color LED [C]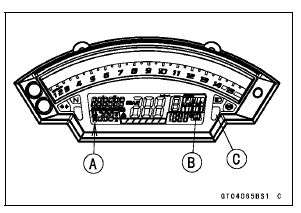 Inspect the CAN communication line resistance (see CAN Communication Line Resistance Inspection in the Fuel System (DFI) chapter).
If the CAN communication line resistance is normal, check the wiring according following procedure.
Remove the ECU and meter unit, check the wiring for continuity between main harness connector.
Disconnect the ECU and meter unit connectors.
Special Tool - Hand Tester: 57001-1394
Wiring Inspection ECU Connector [A] ←→ Meter Unit Connector [B] GY/BL lead (ECU terminal 27) [C] LB lead (ECU terminal 28) [D]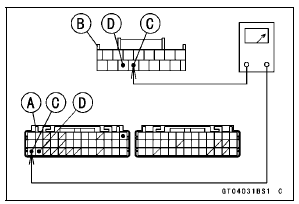 If the wiring is good, check the meter unit (see Meter Unit Inspection in the Electrical System chapter).
If the meter unit is normal, replace the ECU (see ECU Removal/Installation).
ECU Communication Line Circuit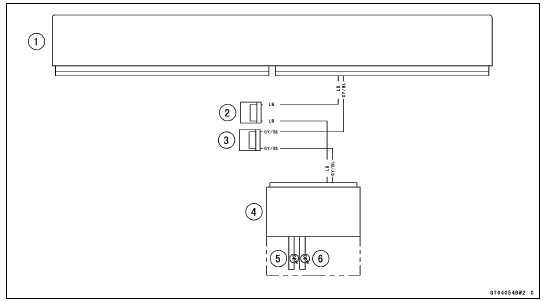 1. ECU
2. Joint Connector D
3. Joint Connector C
4. Meter Unit
5. Warning Indicator Light (LED, Yellow)
6. Warning Indicator Light (LED, Red)