Kawasaki Ninja Owners Manual: Rear Shock Absorber Inspection
Press down on the seat several times to inspect the stroke.
Visually inspect the rear shock absorber for oil leaks.
If there is any doubt about the rear shock absorber, it should be inspected by an authorized Kawasaki dealer.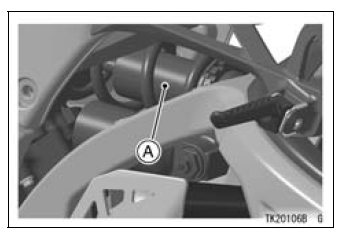 A. Rear Shock Absorber
Spring Preload Adjustment
The spring adjusting nut on the rear shock absorber can be adjusted.
If the spring action feels too soft or too stiff, have it adjusted by an authorized Kawasaki dealer.