Kawasaki Ninja Service Manual: Fuel Pressure Inspection
NOTE
Be sure the battery is fully charged.
Remove: Fuel Tank Covers (see Fuel Tank Removal) Fuel Tank Bolts (see Fuel Tank Removal) Primary Fuel Hose (see Fuel Hose Replacement in the Periodic Maintenance chapter)
Be sure to place a piece of cloth around the fuel outlet pipe of the fuel pump and the delivery pipe of the throttle body assy.
WARNING
Fuel is flammable and explosive under certain conditions and can cause severe burns. Be prepared for fuel spillage; any spilled fuel must be completely wiped up immediately. When the fuel hose is disconnected, fuel spills out from the hose and the pipe because of residual pressure. Cover the hose connection with a piece of clean cloth to prevent fuel spillage.
Install the fuel pressure gauge adapter [A] and fuel hoses (Special Tool: 57001-1607) [B] between the fuel outlet pipe and delivery pipe.
Secure the fuel hoses with the clamps.
Connect the pressure gauge [C] to the fuel pressure gauge adapter.
Special Tools - Oil Pressure Gauge, 5 kgf/cm²: 57001-125
Fuel Pressure Gauge Adapter: 57001-1593
Fuel Hose: 57001-1607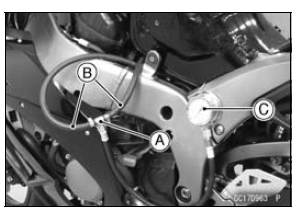 WARNING
Fuel is extremely flammable and can be explosive under certain conditions resulting in serious injury or death. Do not try to start the engine with the fuel hoses disconnected.
Turn the engine stop switch to run position.
Turn the ignition switch to ON.
The fuel pump should operate for 3 seconds, and then should stop.
NOTE
After turning on the engine stop switch and ignition switch, inspect the fuel leakage from the connected portion of the special tools.
NOTICE
Do not drive the fuel pump 3 seconds or more without the fuel in the fuel tank. If the fuel pump is driven without the fuel, it may be damaged.
Start the engine, and let it idle.
Measure the fuel pressure with the engine idling.
Fuel Pressure (with Engine Idling) Standard: 294 kPa (3.0 kgf/cm², 43 psi)
NOTE
The gauge needle will fluctuate. Read the pressure at the average of the maximum and minimum indications.
Turn the ignition switch to OFF.
After above checks, measure the fuel pressure again.
Remove the fuel pressure gauge, hoses and adapter.
Install the removed parts (see appropriate chapters).
Start the engine and check for fuel leakage.