Kawasaki Ninja Service Manual: Fuel Pump Removal
WARNING
Gasoline is extremely flammable and can be explosive under certain conditions, creating the potential for serious burns. Make sure the area is well-ventilated and free from any source of flame or sparks; this includes any appliance with a pilot light. Do not smoke. Turn the ignition switch OFF.
Disconnect the battery (–) terminal. To avoid fuel spills, draw it from the tank when the engine is cold. Be prepared for fuel spillage; any spilled fuel must be completely wiped up immediately.
NOTICE
Never drop the fuel pump especially on a hard surface.
Such a shock to the pump can damage it.
Draw the fuel out from the fuel tank with a commercially available electric pump.
Remove the fuel tank (see Fuel Tank Removal).
Be careful of fuel spillage from the fuel tank since fuel still remains in the fuel tank and fuel pump. Plug the fuel pipe of the fuel tank.
Turn the fuel tank upside down.
Unscrew the fuel pump bolts [A], and take out the fuel pump [B].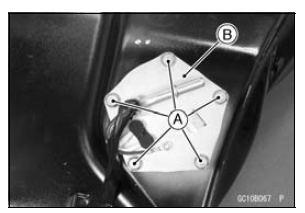 NOTICE
Do not pull the leads of the fuel pump. If they are pulled, the lead terminals may be damaged.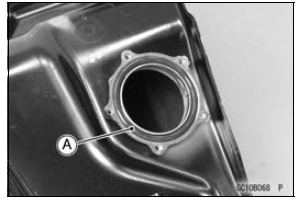 Discard the fuel pump gasket [A].