Kawasaki Ninja Service Manual: Pressure Testing
Remove: Upper Fairing Assembly (see Upper Fairing Assembly Removal in the Frame chapter) Radiator Cap [A]
Remove the radiator cap in two steps. First turn the cap counterclockwise to the first stop. Then push and turn it further in the same direction and remove the cap.
Install the cooling system pressure tester [A] on the filler neck.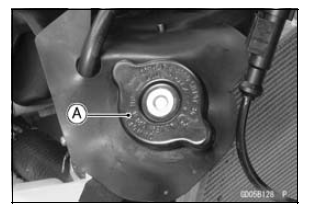 NOTE
Wet the cap sealing surfaces with water or coolant to prevent pressure leaks.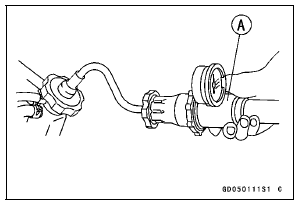 Build up pressure in the system carefully until the pressure reaches 142 kPa (1.45 kgf/cm², 21 psi).
NOTICE
During pressure testing, do not exceed the pressure for which the system is designed. The maximum pressure is 142 kPa (1.45 kgf/cm², 21 psi).
Watch the gauge for at least 6 seconds.
If the pressure holds steady, the system is all right.
If the pressure drops and no external source is found, check for internal leaks. Droplets in the engine oil indicate internal leakage. Check the cylinder head gasket and the water pump.
Remove the pressure tester, replenish the coolant, and install the radiator cap.