Kawasaki Ninja Service Manual: Transmission Shaft Disassembly
Remove the transmission shafts (see Transmission Shaft Removal).
Remove the circlips, and then disassemble the transmission shafts.
Special Tool - Outside Circlip Pliers: 57001-144
The 5th gear [A] on the output shaft has three steel balls assembled into it for the positive neutral finder mechanism.
Remove the 5th gear as follows.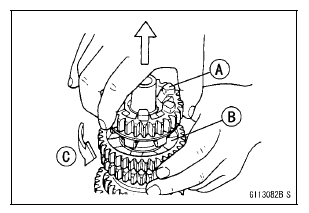 Set the output shaft in a vertical position holding the 3rd gear [B].
Spin the 5th gear quickly [C] and pull it off upward.