Kawasaki Ninja Service Manual: Alternator Cover Removal
Remove: Upper Fairing Assembly (see Upper Fairing Assembly Removal in the Frame chapter) Air Cleaner Housing (see Air Cleaner Housing Removal in the Fuel System (DFI) chapter) Bolt [A]
Bring the heat insulator plate [B] forward to remove the alternator lead connector.
Clear the projections [C] from the main frame.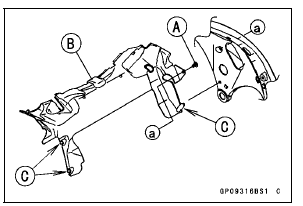 Remove: Bolts [A] and Clamps [B] Alternator Cover [C]
Open the clamp [D].