Kawasaki Ninja Service Manual: Caliper Fluid Seal Damage
The fluid seal (piston seal) [A] is placed around the piston to maintain clearance between the pad and the disc. If the seal is in a poor condition, it could lead the pad to wear excessively or the brake to drag, which may cause the temperature of the discs or the brake fluid to increase.
Replace the fluid seal if it exhibits any of the conditions listed below.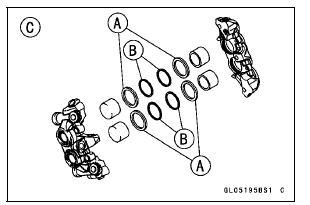 Brake fluid leakage around the pad.
Brakes overheat.
Considerable difference in inner and outer pad wear.
Seal and piston are stuck together.
If the fluid seal is replaced, replace the dust seal [B] as well. Also, replace all seals every other time the pads are changed.
Front Caliper [C] Rear Caliper [D]