Kawasaki Ninja Owners Manual: Chain Slack Inspection
Set the motorcycle up on its side stand.
Rotate the rear wheel to find the position where the chain is tightest, and measure the maximum chain slack by pulling up and pushing down the chain midway between the engine sprocket and rear wheel sprocket.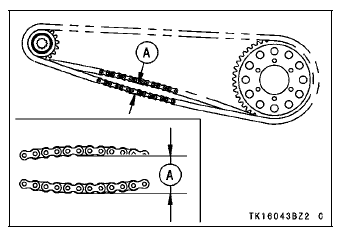 A. Chain Slack
If the drive chain is too tight or too loose, adjust it so that the chain slack will be within the standard value.
Drive Chain Slack