Kawasaki Ninja Service Manual: Charging Voltage Inspection
Check the battery condition (see Charging Condition Inspection).
Warm up the engine to obtain actual alternator operating conditions.
Remove the front seat (see Front Seat Removal in the Frame chapter).
Check that the ignition switch is turned off, and connect the hand tester [A] to the battery terminals [B].
Special Tool - Hand Tester: 57001-1394
Start the engine, and note the voltage readings at various engine speeds with the headlight turned on and then turned off (To turn off the headlight, disconnect the headlight connector.). The readings should show nearly battery voltage when the engine speed is low, and, as the engine speed rises, the readings should also rise. But they must be kept under the specified voltage.
Charging Voltage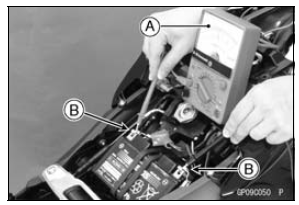 Turn off the ignition switch to stop the engine, and disconnect the hand tester.
If the charging voltage is kept between the values given in the table, the charging system is considered to be working normally.
If the charging voltage is much higher than the values specified in the table, the regulator/rectifier is defective or the regulator/rectifier leads are loose or open.
If the charging voltage does not rise as the engine speed increases, then the regulator/rectifier is defective or the alternator output is insufficient for the loads. Check the alternator and regulator/rectifier to determine which part is defective.