Kawasaki Ninja Service Manual: Chassis Parts Lubrication
Before lubricating each part, clean off any rusty spots with rust remover and wipe off any grease, oil, dirt, or grime.
Lubricate the points listed below with indicated lubricant.
NOTE
Whenever the vehicle has been operated under wet or rainy conditions, or especially after using a high-pressure water spray, perform the general lubrication.
Pivots: Lubricate with Grease.
Brake Lever
Brake Pedal
Clutch Lever
Rear Master Cylinder Push Rod Joint Pin
Sidestand
Points: Lubricate with Grease
Clutch Inner Cable Upper and Lower Ends [A] Throttle Inner Cable Upper and Lower Ends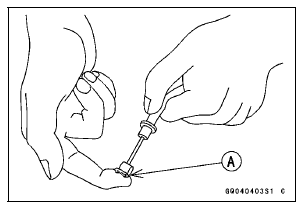 Cables: Lubricate with Rust Inhibitor.
Clutch Cable
Throttle Cables
Lubricate the cables by seeping the oil between the cable and housing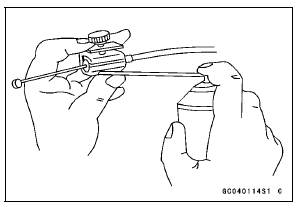 The cable may be lubricated by using a commercially available pressure cable lubricator with an aerosol cable lubricant.
With the cable disconnected at both ends, the inner cable should move freely [A] within the cable housing.
If cable movement is not free after lubricating, if the cable is frayed [B], or if the cable housing is kinked [C], replace the cable.