Kawasaki Ninja Service Manual: Clutch Plate, Wear, Damage Inspection
Visually inspect the friction and steel plates for signs of seizure, overheating (discoloration), or uneven wear.
Measure the thickness of each friction plate [A] at several points.
If any plates show signs of damage, or if they have worn past the service limit, replace them with new ones.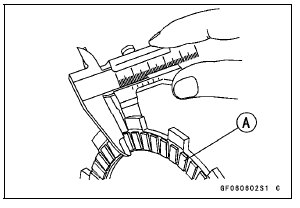 Friction Plate Thickness
Standard: 2.72

2.88 mm
(0.107

0.113 in.)
Service Limit: 2.5 mm (0.098 in.)