Kawasaki Ninja Service Manual: Coupling Bearing Inspection
Since the coupling bearing is made to extremely close tolerances, the clearance can not normally be measured.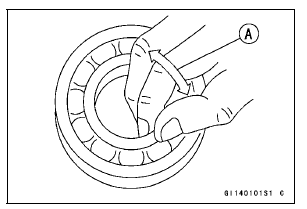 NOTE
It is not necessary to remove the coupling bearing for inspection. If the bearing is removed, it will need to be replaced with a new one.
Turn the bearing in the coupling back and forth [A] while checking for plays, roughness or binding.
If the bearing play, roughness or binding is found, replace the bearing.
Coupling Bearing Lubrication
Pack the bearing with high-temperature grease. Turn the bearing around by hand a few times to make sure the grease is distributed uniformly inside the bearing.