Kawasaki Ninja Service Manual: Drive Chain Wear Inspection
Remove the chain cover (see Drive Chain Removal/Installation in the Final Drive chapter).
Rotate the rear wheel to inspect the drive chain for damaged rollers, and loose pins and links
If there is any irregularity, replace the drive chain.
Lubricate the drive chain if it appears dry.
Stretch the chain taut by hanging a 10 kg (22 lb) weight [A] on the chain.
Measure the length of 20 links [B] on the straight part [C] of the chain from the pin center of the 1st pin to the pin center of the 21st pin. Since the chain may wear unevenly, take measurements at several places.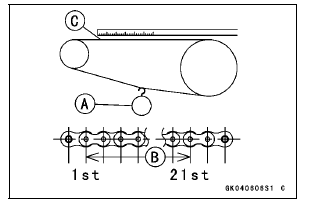 If any measurements exceed the service limit, replace the chain. Also, replace the front and rear sprockets when the drive chain is replaced.
Drive Chain 20-link Length
Standard: 317.5

318.2 mm
(12.50

12.53 in.)
Service Limit: 319 mm (12.6 in.)
WARNING
A chain that breaks or jumps off the sprockets could snag on the engine sprocket or lock the rear wheel, severely damaging the motorcycle and causing it to go out of control. Inspect the chain for damage and proper adjustment before each ride.
If chain wear exceeds the service limit, replace it with the standard chain. It is an endless type and should not be cut for installation.
Standard Chain
Make: ENUMA
Type: (

ZX1000JC/KC)
EK525RMX/3D (ZX1000JD/KD) EK525RMX2/3D
Link: 112 links