Kawasaki Ninja Service Manual: Wheel Alignment Inspection
Check that the notch [A] on the alignment indicator [B] aligns with the same swingarm mark or position [C] that the other side alignment indicator notch aligns with.
If they do not, adjust the chain slack and align the wheel alignment (see Drive Chain Slack Adjustment).
NOTE
Wheel alignment can be also checked using the straightedge or string method.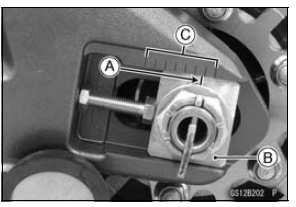 WARNING
Misalignment of the wheel will result in abnormal wear and may result in an unsafe riding condition.
Be sure the wheel is properly aligned.