Kawasaki Ninja Service Manual: ESD (Electronic Steering Damper) ECU Removal (ZX1000JD/KD)
NOTICE
Never drop the ECU especially on a hard surface.
Such a shock to the ECU can damage it.
Lift up the front portion of the fuel tank, and hold it with a suitable bar or block (see Fuel Tank Removal in the Fuel System (DFI) chapter).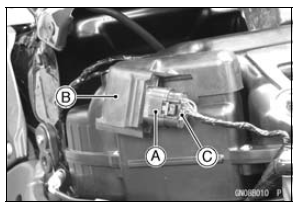 NOTE
When removing the ESD ECU only, there is no need to lift up the fuel tank.
Remove the ESD ECU [A] with the rubber protector [B].
Disconnect the ESD ECU connector [C].