Kawasaki Ninja Service Manual: Exhaust Butterfly Valve Actuator Inspection
NOTE
Be sure the battery is fully charged
Remove the front seat (see Front Seat Removal in the Frame chapter).
Turn the ignition switch to ON.
In the left side view of the motorcycle, check to see the pulley [A] clockwise [B] and counterclockwise [C] smoothly.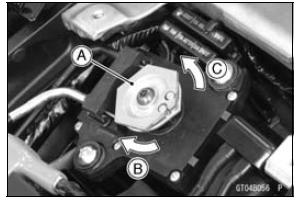 The pulley turns clockwise and then counterclockwise, and clockwise again.
Turn the ignition switch to OFF.
If the pulley does not operate, check the exhaust butterfly valve actuator resistance (see Exhaust Butterfly Valve Actuator Inspection Resistance Inspection).