Kawasaki Ninja Service Manual: Hub Bearing Installation
Before installing the hub bearings, blow any dirt or foreign particles out of the hub with compressed air to prevent contamination of the bearings.
Replace the bearings with new ones.
Install the bearings by using the bearing driver set which does not contact the bearing inner race.
NOTE
Install the bearings so that the marked side faces out.
Press in each right the bearing [A] until they are bottomed.
Special Tool - Bearing Driver Set [B]: 57001-1129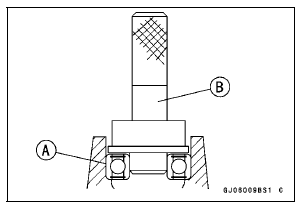 Replace the grease seals with new ones.
Press in the grease seals [A] so that the seal surface is flush [B] with the end of the hole.
Apply high-temperature grease to the grease seal lips.
Special Tool - Bearing Driver Set [C]: 57001-1129