Kawasaki Ninja Service Manual: Piston Ring, Piston Ring Groove Wear Inspection
Check for uneven groove wear by inspecting the ring seating.
The rings should fit perfectly parallel to groove surfaces.
If not, replace the piston and all the piston rings.
With the piston rings in their grooves, make several measurements with a thickness gauge [A] to determine piston ring/groove clearance.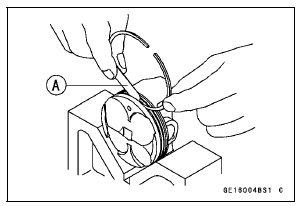 Piston Ring/Groove Clearance Standard:
Top 0.03

0.07 mm (0.0012


0.0028 in.)
Second 0.03

0.06 mm (0.0012


0.0024 in.)
Service Limit:
Top 0.17 mm (0.0067 in.)
Second 0.16 mm (0.0063 in.)