Kawasaki Ninja Service Manual: Rocker Arm/Tie-Rod Bearing, Sleeve Inspection
NOTICE
Do not remove the bearings for inspection. Removal may damage them.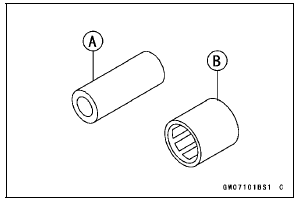 Visually inspect the rocker arm, or tie-rod sleeves [A] and needle bearings [B].
The rollers in a needle bearing normally wear very little, and wear is difficult to measure. Instead of measuring, inspect the bearing for abrasion, color change, or other damage.
If there is any doubt as to the condition of any of the needle bearings or sleeve, replace the sleeve and needle bearings as a set.
Rocker Arm/Tie-Rod Bearing Lubrication
NOTE
Since the bearings are packed with grease, lubrication is not required.