Kawasaki Ninja Service Manual: Starter Clutch Inspection
Remove: Torque Limiter Cover (see Torque limiter Removal)
Turn the torque limiter [A] by hand. The torque limiter should turn forward freely [B], but should not turn backward.
If the starter clutch does not operate as it should or if it makes noise, go to the next step.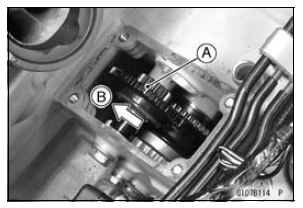 If there is any worn or damaged part, replace it.
Examine the drive gear [C] as well. Replace the clutch gear if it is worn or damaged.