Kawasaki Ninja Service Manual: Throttle Body Assy Removal
WARNING
Gasoline is extremely flammable and can be explosive under certain conditions, creating the potential for serious burns. Make sure the area is well-ventilated and free from any source of flame or sparks; this includes any appliance with a pilot light. Do not smoke. Turn the ignition switch OFF.
Be prepared for fuel spillage; any spilled fuel must be completely wiped up immediately.
NOTICE
Never drop the throttle body assy especially on a hard surface. Such a shock to the body assy can damage it.
Remove: Air Cleaner Housing (see Air Cleaner Housing Removal) Primary and Secondary Fuel Hoses (see Fuel Hose Replacement in the Periodic Maintenance chapter)
Disconnect: Idle Speed Control Valve Actuator Connector [A] Intake Air Pressure Sensor #2 Connector [B] Subthrottle Valve Actuator Connector [C] Intake Air Pressure Sensor #1 Connector [D] Hose [E] (Other than US, CA and CAL Models)
For the California and Southeast Asia models, pull off the vacuum hose.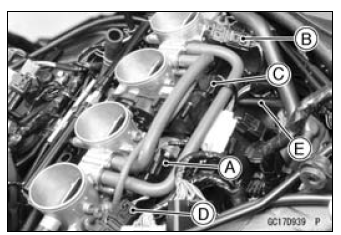 Disconnect: Primary Fuel Injector Connectors [A]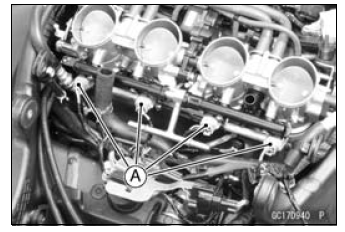 Remove the caps [A] on both sides.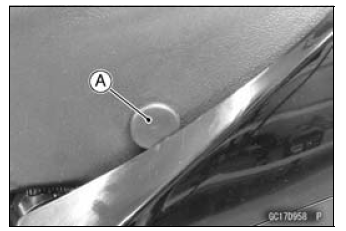 Loosen the throttle body assy holder clamp bolts [A].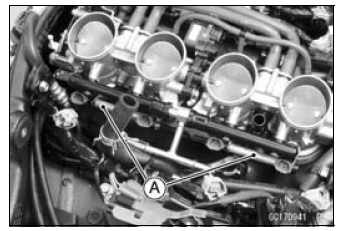 Remove the throttle body assy [A] from the throttle body assy holders.
Disconnect: Main Throttle Sensor Connector [B] Subthrottle Sensor Connector [C]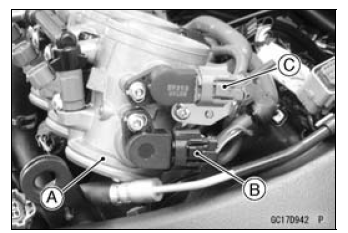 Remove: Clamp [A] Throttle Cable Lower Ends [B]
After removing the throttle body assy, stuff pieces of lint -free, clean cloth into the throttle body assy holders.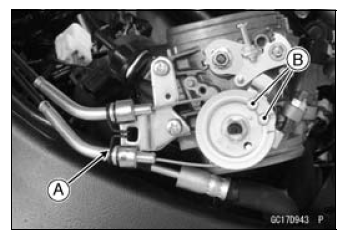 NOTICE
If dirt gets into the engine, excessive engine wear and possible engine damage will occur.