Kawasaki Ninja Service Manual: Tie-Rod Operation Inspection
Pump the rear seat down and up 4 or 5 times, and inspect the smooth stroke.
If the tie-rod [A] do not smoothly stroke or noise is found, inspect the fasteners and tie-rod bearings (see Tie-Rod/Rocker Arm Bearing, Sleeve Inspection in the Suspension chapter).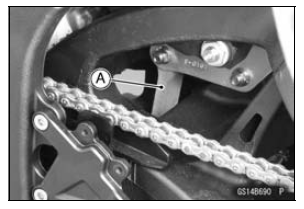 In this photo, the foot guard has been removed for clarity.