Kawasaki Ninja Service Manual: Tire Air Pressure Inspection
Remove the air valve cap.
Measure the tire air pressure with an air pressure gauge [A] when the tires are cold (that is, when the motorcycle has not been ridden more than a mile during the past 3 hours).
Install the air valve cap.
Adjust the tire air pressure according to the specifications if necessary.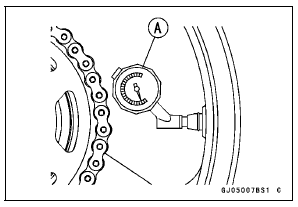 Air Pressure (when Cold) Front: Up to 180 kg (397 lb) load:250 kPa (2.50 kgf/cm², 36 psi)
Rear: Up to 180 kg (397 lb) load: 290 kPa (2.90 kgf/cm², 42 psi)