Kawasaki Ninja Service Manual: Tire Tread Wear Inspection
As the tire tread wears down, the tire becomes more susceptible to puncture and failure. An accepted estimate is that 90% of all tire failures occur during the last 10% of tread life (90% worn). So it is false economy and unsafe to use the tires until they are bald.
Measure the tread depth at the center of the tread with a depth gauge [A]. Since the tire may wear unevenly, take measurement at several places.
If any measurement is less than the service limit, replace the tire (see Tire Removal/Installation in the Wheels/Tires chapter).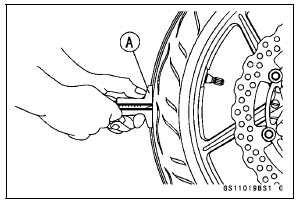 Tread Depth Standard:
Front 3.6 mm (0.14 in.)
Rear 5.3 mm (0.21 in.)
Service Limit:
Front 1 mm (0.04 in.) (AT, CH, DE) 1.6 mm (0.06 in.)
Rear 2 mm (0.08 in.) (Up to 130 km/h (80 mph)) 3 mm (0.12 in.) (Over 130 km/h (80 mph))
WARNING
Some replacement tires may adversely affect handling and cause an accident resulting in serious injury or death. To ensure proper handling and stability, use only the recommended standard tires for replacement, inflated to the standard pressure.
NOTE
Most countries may have their own regulations a minimum tire tread depth: be sure to follow them.
Check and balance the wheel when a tire is replaced with a new one.