Kawasaki Ninja Service Manual: Balance Weight Installation
Check if the weight portion has any play on the blade [A] and clip [B].
If it does, discard it.
WARNING
Unbalanced wheels can create an unsafe riding condition. If the balance weight has any play on the rib of the rim, the blade and/or clip have been stretched. Replace the loose balance weight. Do not reuse used balance weight.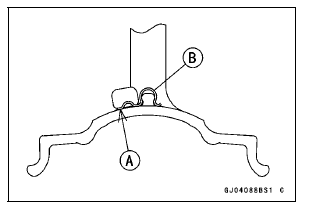 Balance Weight

NOTE
Balance weights are available from Kawasaki dealers in 10, 20 and 30 grams (0.35, 0.71 and 1.06 oz.) sizes.

An imbalance of less than 10 grams (0.35 oz.) will not usually affect running stability.

Do not use four or more balance weight (more than 90 gram, 3.2 oz.). If the wheel requires an excess balance weight, disassemble the wheel to find the cause.
Slip the balance weight [A] onto the rib [B] by pushing or lightly hammering [C] the clip [D].
Left Side [E] Right Side [F]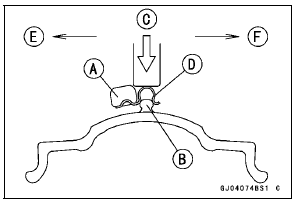 Be sure to install the balance weight.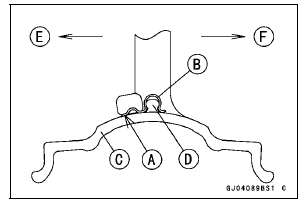 Check that the blade [A] and clip [B] are fully seated on the rim [C] and that the clip is hooked over the rib [D].
Left Side [E] Right Side [F]