Kawasaki Ninja Service Manual: Camshaft Removal
Remove: Cylinder Head Cover (see Cylinder Head Cover Removal) Crankshaft Sensor Cover (see Crankshaft Sensor Removal in the Electrical System chapter)
Using a wrench on the timing rotor bolt [A], turn the crankshaft clockwise until the line [B] (TDC mark for #1,4 pistons) on the timing rotor [C] is aligned with the mating surface [D] of the crankcase.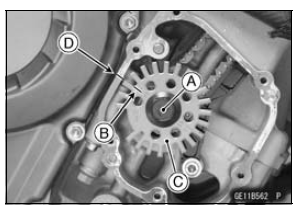 Remove the camshaft chain tensioner (see Camshaft Chain Tensioner Removal).
Loosen the upper camshaft chain guide bolts and camshaft cap bolts as shown sequence [1 ∼ 20] in the figure, and remove them.
Remove: Upper Camshaft Chain Guide [A] Camshaft Caps [B] Camshafts [C]
Stuff a clean cloth into the chain tunnel to keep any parts from dropping into the crankcase.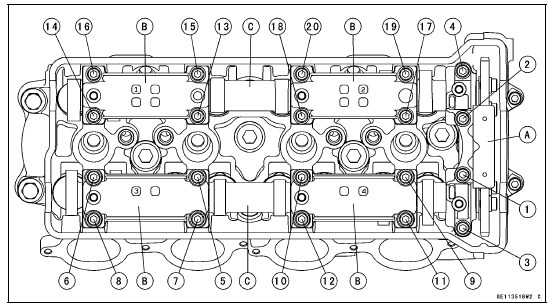 Remove: Camshaft Sprocket Bolts [A] Camshaft Sprockets
NOTICE
The crankshaft may be turned while the camshafts are removed. Always pull the chain taut while turning the crankshaft. This avoids kinking the chain on the lower (crankshaft) sprocket. A kinked chain could damage both the chain and the sprocket.