Kawasaki Ninja Service Manual: Tire Removal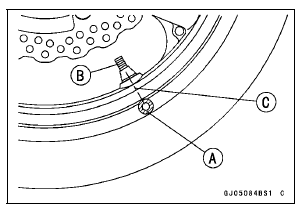 Lubricate the tire beads and rim flanges on both sides with a soap and water solution or rubber lubricant. This helps the tire beads slip off the rim flanges.
NOTICE
Never lubricate with engine oil or petroleum distillates because they will deteriorate the tire.
Remove the tire from the rim using a suitable commercially available tire changer.
NOTE
The tires cannot be removed with hand tools because they fit the rims too tightly.