Kawasaki Ninja Owners Manual: Compression Damping Force Adjustment
The compression damping force adjusters for high and low speeds are located on the gas reservoir at the left side of the rear shock absorber.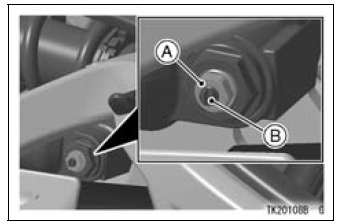 A. High Speed Adjuster
B. Low Speed Adjuster
NOTE
Turning the high speed adjuster has the low speed adjuster turning. Although the low speed adjuster turns with the high speed adjuster when turning the high speed adjuster, the low speed adjuster setting position dose not change.
Low Speed Compression Damping Adjustment
Using a screwdriver turn the low speed compression adjuster screw clockwise to increase damping force or counterclockwise to decrease it.