Kawasaki Ninja Service Manual: Compression Damping Force Adjustment
To adjust the compression damping force, turn the compression damping adjuster [A].
The standard adjuster setting is the 4 1/2 turns out from the fully clockwise position.
WARNING
If both adjusters are not adjusted equally, handling may be impaired and a hazardous condition may result. Be sure the adjusters are set equally.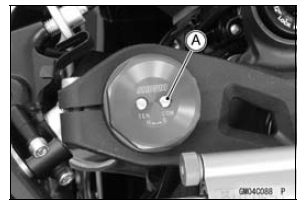 The damping force can be left soft for average riding. But it should be adjusted harder for high speed riding or riding with a passenger. If the damping feels too soft or too stiff, adjust it in accordance with the following table.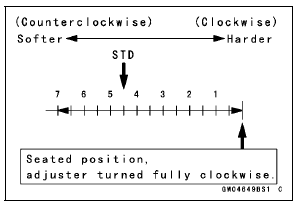 Compression Damping Force Adjustment