Kawasaki Ninja Service Manual: Crankshaft Side Clearance Inspection
Insert a thickness gauge [A] between the thrust washer [B] on the crankcase and the crank web [C] at the #3 main journal to determine clearance.
If the clearance exceeds the service limit, replace the thrust washers as a set and check the width of the crankshaft #3 main journal.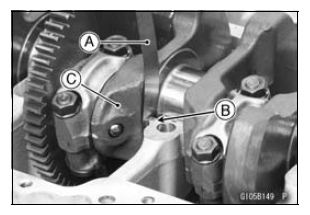 Crankshaft Side Clearance Standard: 0.05

0.25 mm
(0.0020

0.0098 in.)
Service Limit: 0.45 mm (0.0177 in.)
Measure the width [A] of the crankshaft #3 main journal [B].
If the measurement exceeds the standard, replace the crankshaft.
Crankshaft #3 Main Journal Width Standard: 23.49

23.54 mm (0.9248


0.9268 in.)