Kawasaki Ninja Service Manual: Cylinder Head Removal
Remove: Thermostat Housing (see Thermostat Removal in the Cooling System chapter) Exhaust Pipe (see Exhaust Pipe Removal) Camshafts (see Camshaft Removal) Heat Insulation Plate [A] (see Engine Removal in the Engine Removal/Installation chapter)
Place a container under the coolant drain bolt [B].
Drain the coolant by removing the coolant drain bolt.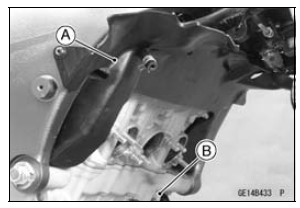 Remove the front camshaft chain guide bolt (upper) [A].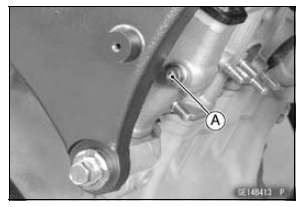 Remove: Front Camshaft Chain Guide Bolt (Lower) [A] Collar Front Camshaft Chain Guide [B] Dowel Pin [C] Rear Camshaft Chain Guide [D]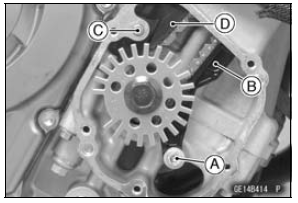 Loosen the M6 and M10 cylinder head bolts as shown sequence [1 12] in the figure,
and remove them with washers.
Remove the cylinder head forward.