Kawasaki Ninja Service Manual: Cylinder (Upper Crankcase) Wear Inspection
Split the crankcase (see Crankcase Splitting).
Remove the pistons (see Piston Removal).
Assemble the cylinder (upper crankcase) [A], the cylinder head [B] and the cylinder head gasket [C].
Tighten the cylinder head bolts (see Cylinder Head Installation in the Engine Top End chapter).
Put the crankcase upside down.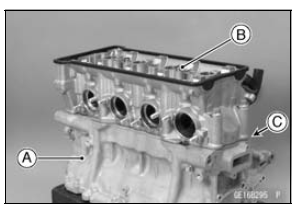 Since there is a difference in cylinder wear (upper crankcase) in different directions, take a side-to-side and a front-to-back measurement at each of the two locations (total of four measurements) as shown in the figure.
If any of the cylinder inside diameter measurements exceeds the service limit, replace the crankcase.
10 mm (0.39 in.) [A] 60 mm (2.36 in.) [B]
Cylinder (Upper Crankcase) Inside Diameter
Standard: 75.994

76.006 mm
(2.9919

2.9924 in.)
Service Limit: 76.09 mm (2.996 in.)