Kawasaki Ninja Service Manual: Front Wheel Rotation Sensor Signal Abnormal (Service Code b 42)
Measure the air gap between the front wheel rotation sensor and sensor rotor.

Thickness Gauge [A]
Air Gap Standard: 0.4

1.6 mm (0.02


0.06 in.)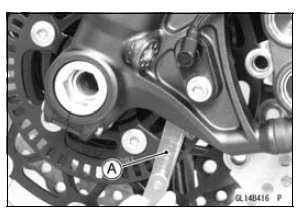 If the measurement is not the standard, check each part for deformation and looseness and correct accordingly.
If the measurement is the standard, go to next step.
Check that there is iron or other magnetic deposits between the sensor and sensor rotor, and the sensor rotor slots for obstructions.
Check the installation condition of the sensor for looseness.
Check the sensor and sensor rotor tip for deformation or damage (e.g., chipped sensor rotor teeth).
If the sensor and sensor rotor in bad condition, remove the any deposits. Install the proper part or replace faulty part.
If the all items are good, go to next step.
Perform the Pre-Diagnosis Inspection 1 and 2 (see Inquiries to Rider in the Brakes chapter).
If this service code appears even if all checks are ended, replace the KIBS hydraulic unit.
If the service code does not appear, the KIBS system normal (temporary failure).