Kawasaki Ninja Service Manual: Fuel Tank and Cap Inspection
Visually inspect the gasket [A] on the tank cap for any damage.
Replace the gasket if it is damaged.
Check to see if the water drain pipe [B] and fuel breather pipe [C] in the tank are not clogged. Check the tank cap breather also.
If they are clogged, remove the tank and drain it, and then blow the breather free with compressed air.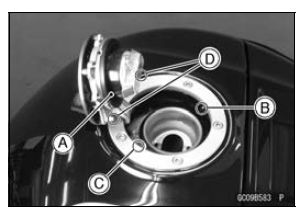 NOTICE
Do not apply compressed air to the air vent holes [D] in the tank cap. This could cause damage and clogging of the labyrinth in the cap.