Kawasaki Ninja Service Manual: Ignition Switch Replacement
Remove: Air Cleaner Housing (see Air Cleaner Housing Removal in the Fuel System (DFI) chapter)
Disconnect the lead connectors [A].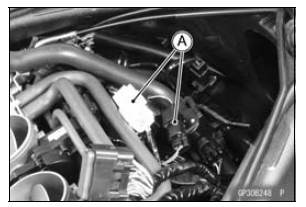 Remove: Steering Stem Head (see Stem, Stem Bearing Removal in the Steering chapter)
Using a small chisel or punch [A], turn out the Torx bolts.
Pull out the ignition switch from the steering stem head.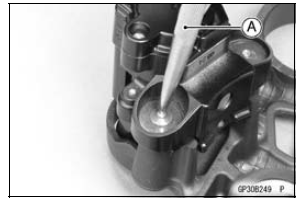 Register the more than two ignition keys (see key Registration).
Tighten a new Torx bolt [A] until the bolt head [B] is broken [C].
Run the leads correctly (see Cable, Wire, and Hose Routing section in the Appendix chapter).