Kawasaki Ninja Service Manual: Inner Tube Inspection
Visually inspect the inner tube [A].
If there is any damage, replace the inner tube. Since damage to the inner tube damages the oil seal, replace the oil seal whenever the inner tube is replaced.
NOTICE
If the inner tube is badly bent or creased, replace it. Excessive bending, followed by subsequent straightening, can weaken the inner tube.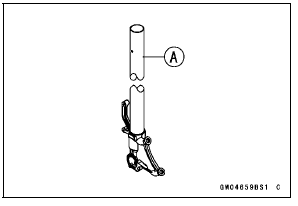 Temporarily assemble the inner tube [A] and outer tube [B], and pump [C] them back and forth manually to check for smooth operation.
If you feel binding or catching, the inner and outer tubes must be replaced.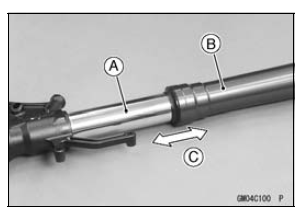 WARNING
A straightened inner or outer fork tube may fall in use, possibly causing an accident resulting in serious injury or death. Replace a badly bent or damaged inner or outer tube and inspect the other tube carefully before reusing it.