Kawasaki Ninja Service Manual: Release Shaft Installation
Apply grease to the oil seal lips on the upper ridge of the clutch cover.
Apply engine oil to the needle bearings in the hole of the clutch cover.
Applymolybdenum disulfide grease to the pusher-holding portion [A] on the release shaft.
Install the washer [B] and spring [C].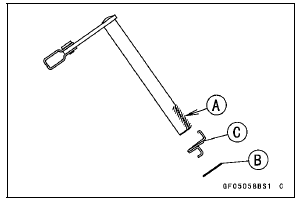 Insert the release shaft straight into the upper hole of the clutch cover.
NOTICE
When inserting the release shaft, be careful not to remove the spring of the oil seal.
Fit the spring [A] as shown in the figure.