Kawasaki Ninja Service Manual: System Components
1. KIBS ECU
With input from the front and rear wheel sensors and front caliper hydraulic pressure, the KIBS ECU analyzes various conditions on the motorcycle, and with additional information from the FI ECU (engine speed, throttle position, gear position, and clutch actuation) precisely controls the brake caliper hydraulic pressure. As a result, brake force is generated to suit conditions. If there is no engine information from the FI ECU, the KIBS is deactivated and the warning is displayed in the meter; however, the conventional ABS function is maintained.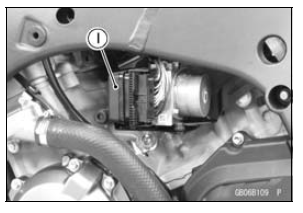 2. Wheel Rotation Sensor
The wheel rotation sensor converts the front and rear wheel rotation speed to a pulse signal and transmits it to the KIBS ECU and FI ECU.
3. KIBS Hydraulic Unit
The KIBS hydraulic unit consists of the hydraulic unit and KIBS ECU and has the front caliper hydraulic pressure sensor built-in.
When receiving a signal fromthe KIBS ECU, the hydraulic unit increases or decreases the front and rear brake hydraulic pressure.
The front caliper hydraulic pressure sensor always monitors the front caliper hydraulic pressure and transmits the hydraulic pressure change to the KIBS ECU.
4. FI ECU
The FI ECU transmits information from the crankshaft sensor (engine speed), the main throttle sensor (throttle position), the gear position switch (gear position), and the starter lockout switch (ON/OFF) to the KIBS ECU by the CAN system.
5. Multifunction Meter
When a failure occurs in the system, themultifunction meter displays the warning indication by turning ON the warning indicator light (yellow LED) [A] and KIBS symbol [B].