Kawasaki Ninja Service Manual: Throttle Control System Inspection
Check the throttle grip free play [A].
If the free play is incorrect, adjust the throttle cables.
Throttle Grip Free Play Standard: 2
3 mm (0.08


0.12 in.)
Check that the throttle grip [B] moves smoothly from full open to close, and the throttle closes quickly and completely by the return spring in all steering positions.
If the throttle grip does not return properly, check the throttle cables routing, grip free play, and cable damage. Then lubricate the throttle cable.
Run the engine at the idle speed, and turn the handlebar all the way to the right and left to ensure that the idle speed does not change.
If the idle speed increases, check the throttle cable free play and the cable routing.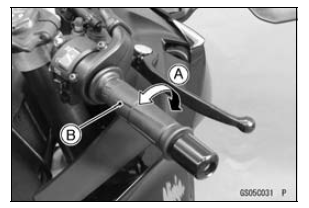 If necessary, adjust the throttle cable as follows.
Loosen the locknuts [A] [B].
Screw both throttle cable adjusters [C] [D] to give the throttle grip plenty of play.
Turn the decelerator cable adjuster [C] until it has no play when the throttle grip is completely closed.
Tighten the locknut [A]
Turn the accelerator cable adjuster [D] until 2 3 mm
(0.08 0.12 in.) of throttle
grip play is obtained.
Tighten the locknut [B].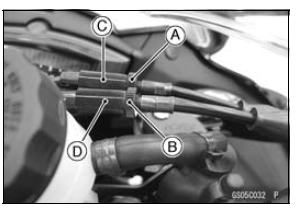 If the free play can not be adjusted with the adjusters, replace the cable.