Kawasaki Ninja Service Manual: Water Temperature Sensor Inspection
Remove the water temperature sensor (see Water Temperature Sensor Removal/Installation in the Fuel System (DFI) chapter).
Suspend the sensor [A] in a container of coolant so that the temperature-sensing projection [C] is submerged.
Suspend an accurate thermometer [B] with temperature -sensing projection located in almost the same depth with the sensor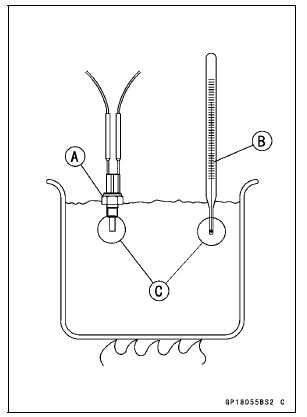 NOTE
The sensor and thermometer must not touch the container side or bottom.
Place the container over a source of heat and gradually raise the temperature of the coolant while stirring the coolant gently.
Using the hand tester, measure the internal resistance of the sensor.
If the hand tester does not show the specified values, replace the sensor.
Water Temperature Sensor Resistance

*: Reference Information