Kawasaki Ninja Service Manual: Rear Wheel Removal
Raise the rear wheel off the ground with the stand [A].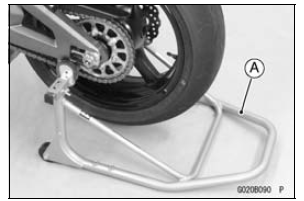 Remove: Cotter Pin [A] Rear Axle Nut [B] Washer [C] Rear Axle [D] (from Right Side)
Remove the rear wheel rotation sensor from the caliper bracket (see Rear Wheel Rotation Sensor Removal in the Brakes chapter).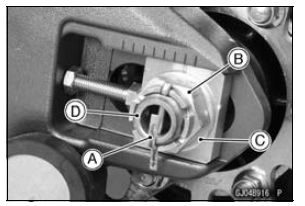 Remove the drive chain [A] from the rear sprocket toward the left.
Move the rear wheel back and remove it.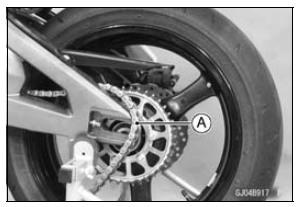 NOTICE
Do not lay the wheel on the ground with the disc facing down. This can damage or warp the disc.
Place blocks under the wheel so that the disc does not touch the ground.