Kawasaki Ninja Service Manual: Camshaft, Camshaft Cap Wear Inspection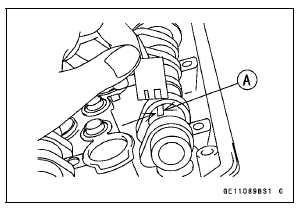 NOTE
Do not turn the camshaft when the plastigage is between the journal and camshaft cap.
Remove the camshaft cap again, measure each clearance between the camshaft journal and the camshaft cap using plastigage [A].
Camshaft Journal/Camshaft Cap Clearance Standard: 0.038 ∼ 0.081 mm (0.0015 ∼ 0.0032 in.) Service Limit: 0.17 mm (0.0067 in.)
If any clearance exceeds the service limit, measure the diameter of each camshaft journal with a micrometer.
Camshaft Journal Diameter Standard: 23.940 ∼ 23.962 mm (0.9425 ∼ 0.9434 in.) Service Limit: 23.91 mm (0.9413 in.)
If the camshaft journal diameter is less than the service limit, replace the camshaft with a new one and measure the clearance again.
If the clearance still remains out of the service limit, replace the cylinder head unit.