Kawasaki Ninja Service Manual: Charging Condition Inspection
Battery charging condition can be checked by measuring battery terminal voltage with a digital voltmeter [A].
Remove the seat (see Seat Removal in the Frame chapter).
Disconnect the battery terminals.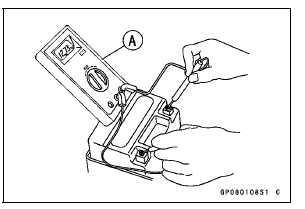 NOTICE
Be sure to disconnect the negative (–) cable first.
Measure the battery terminal voltage.
NOTE
Measure with a digital voltmeter which can be read one decimal place voltage.
If the reading is 12.8 V or more, refresh charge is not required, however, if the read is below the 12.8 V, refresh charge is required.
Battery Terminal Voltage Standard: 12.8 V or more
Terminal Voltage (V) [A] Battery Charge Rate (%) [B] Good [C] Refresh charge is required [D]