Kawasaki Ninja Service Manual: Fuel Hose Inspection (fuel leak, damage, installation condition)
If the motorcycle is not properly handled, the high pressure inside the fuel line can cause fuel to leak [A] or the hose to burst. Remove the fuel tank (see Fuel Tank Removal in the Fuel System (DFI) chapter) and check the fuel hoses.
Replace the fuel hose if any fraying, cracks [B] or bulges [C] are noticed.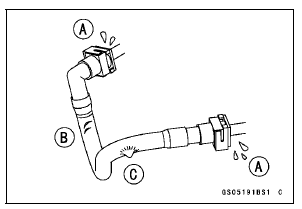 Check that the primary fuel hose [A] and secondary fuel hose [B] are routed according to Cable, Wire, and Hose Routing section in the Appendix chapter.
Replace the hose if it has been sharply bent or kinked.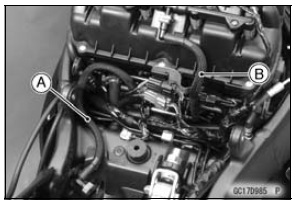 Check that the fuel hose joints are securely connected.

Push and pull [A] the fuel hose joint [B] back and forth more than two times, and make sure it is locked.

Check the other hose joint in the same way.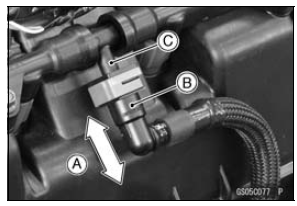 NOTICE
When pushing and pulling the fuel hose joint, do not apply strong force to the delivery pipe [C] on the nozzle assy. The pipe made from resin could be damaged.
WARNING
Leaking fuel can cause a fire or explosion resulting in serious burns. Make sure the hose joint is installed correctly on the delivery pipe by sliding the joint.
If it does not locked, reinstall the hose joint.