Kawasaki Ninja Service Manual: Nozzle Assy Disassembly
Remove the nozzle assy (see Nozzle Assy Removal).
Pull out the secondary fuel injectors [A] from the delivery pipe assy [B].
NOTE
Do not damage the insertion portions of the injectors when they are pulled out from the delivery pipe assy.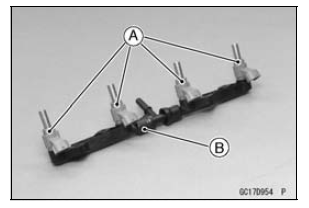 NOTICE
Never drop the secondary fuel injector especially on a hard surface. Such a shock to the injector can damage it.
Separate the delivery pipe assy.
NOTE
Mark and record the location of the delivery pipes and the joint pipe so that the delivery pipe assy can be reassembled in the original position.